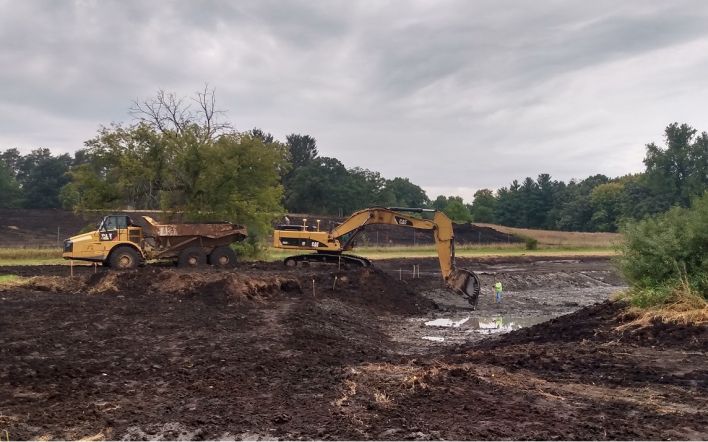 The Wilkinson Deep-Water Wetland construction is underway. Located at a key location where multiple waterbodies merge together, the project improves water storage capacity and reduces excess nutrient flows into Wilkinson Lake. The project broke ground in September, and excavation has been completed. Water control, invasive species removal, and vegetation establishment will be continuing into the spring and summer of 2024. North Oaks Company is a primary local partner for this project. 

Check out the project page for news articles, photos, and drone video footage. 
Grant funds (60% of project cost) are through US Environmental Protection Agency (EPA) 319 funds administered by the Minnesota Pollution Control Agency (MPCA), with a 40% match that is being shared equally between VLAWMO and the North Oaks Company (NOC).
St. Paul Regional Water Services worked with VLAWMO to fund early site sampling and investigation to inform design through a source-water protection grant with the Minnesota Department of Health (2021). Ramsey County Soil and Water Conservation Division also partnered with VLAWMO to conduct feasibility work for site investigation toward this project.