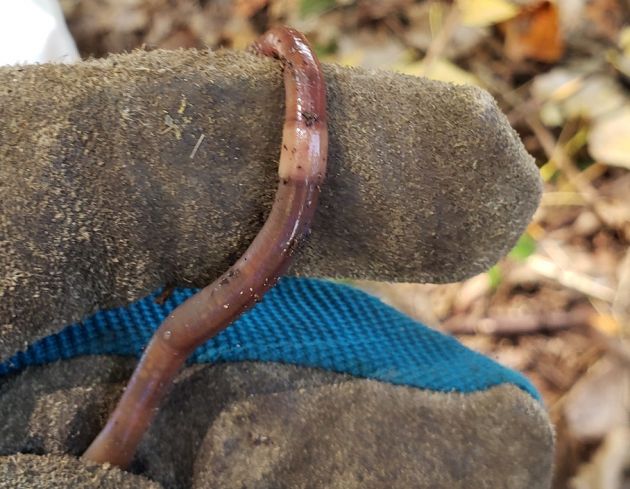 Invasive jumping worms have been detected at the Vadnais Heights City Hall wooded wetland and are suspected at the woodlot at 4th and Otter in White Bear Lake. The City Hall discovery came as staff and volunteers were removing invasive buckthorn. To clarify the identification, VLAWMO sought help from the Minnesota Department of Natural Resources. While the discovery is not an urgent alarm for the watershed, it's a troubling new factor in soil and water management. VLAWMO is working to prevent the spread from identified sites, and asks residents to check their yards, help spread the word, and report sightings at the links below. Invasive worms currently have no treatment method, but research is being conducted in search of ways to minimize their harmful effects. 
What harm do jumping worms cause?

 
According to the Minnesota DNR: 
Jumping worms can dramatically change soils, giving it a unique texture similar to coffee grounds. Jumping worms feast on mulch and strip vital nutrients from topsoil. This kills plants and increases erosion. Homeowners may see garden plants killed and may have difficulty growing plants.

Jumping worms can cause environmental harm where they are established. Studies have found nonnative earthworms dramatically change forest soils by eating the leaf litter layer and impacting soil chemistry, soil organisms and plant communities. Jumping worms have been shown to have similar effects. When the soil changes, the forest can't support the same plant and animal species it did before earthworms.
Read more from the DNR on jumping worms here
Video: Jumping Worm Impacts and Prevention
I have jumping worms in my yard and/or garden.  What should I do?
Keep calm.  We are learning about the impacts of jumping worms in Minnesota.  It is not clear what impacts they will have at which places and for how long.  Your report will help scientists better understand jumping worms in Minnesota.
Prevent their spread off your site.  Jumping worms and their cocoons (egg cases) can be moved when soil, leaves, mulch or other organic material is moved from place to place.  By keeping that material on site, you reduce the chance of spreading worms to new places.
Dispose of jumping worms in the trash.  Jumping worms live near the top of the soil surface and in the leaf and mulch layer on top of the surface.  You can hand collect worms, seal them in a bag, and dispose of them in the trash.  This can help reduce the numbers of jumping worms at your site.
Get involved.  Research is moving forward on understanding jumping worms and developing ways to manage them in a yard and garden setting. Share information on jumping worms with your friends and neighbors and get involved with local gardening groups.  If you have suggested research topics, please fill out this online form and share your ideas with the University of Minnesota. If you are experimenting in your own yard, you can share your results through the University of Minnesota Extension's Report Jumping Worm Management webpage and help people better understand what may or may not work and potentially inspire more formal research projects on jumping worm management. 
Check out the EddMaps jumping worm distribution map