When arriving at Bridgewood Park, you're likely to hear the steady rhythm of pickle ball echoing off of the tree line. But listen a little closer and you may hear the faint buzz of a bee on a Joe-Pye Weed flower. Joe-Pye Weed, Dogwood, Black-eyed Susan, and a variety of sedges are some of the native plants that can be found in the Bridgewood Park raingarden. 
This raingarden greets park goers as they make their way through the parking lot to the pickleball court or the playground area. Completed in June of 2022, it was the result of a successful partnership between VLAWMO, the City of Vadnais Heights, the Vadnais Heights Parks Commission, Ramsey County Soil and Water Conservation Division, and Sandstrom Land Management. 
Read more or see pictures of the raingarden under construction at the Bridgewood Park Curb-Cut Raingarden project page. 
Celebrate and tour the raingarden at the open house kick-off party: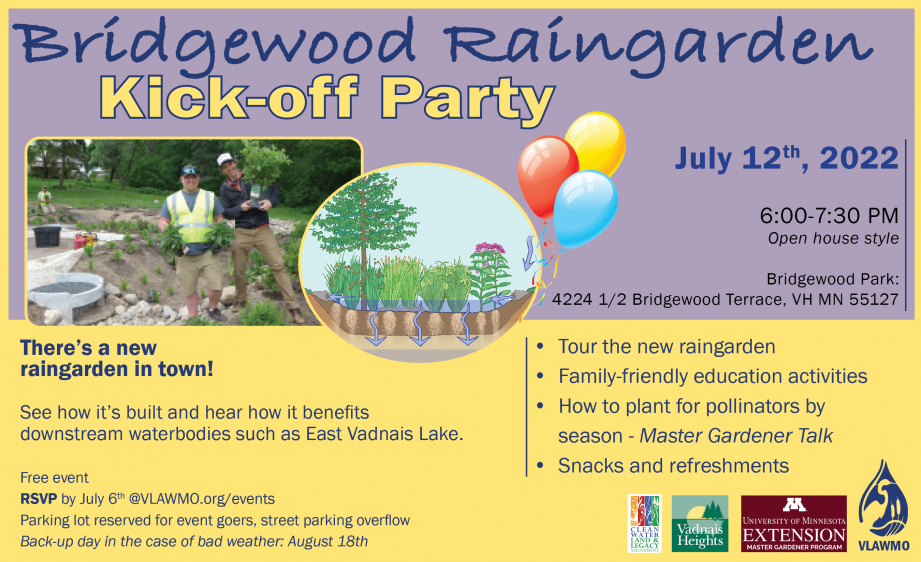 More information and RSVP here
See the raingarden in action:
Be a raingarden connoisseur:
Join an active community of raingarden enthusiasts! There are several public raingardens in the VLAWMO watershed that are available to "adopt." Volunteers learn the ropes of what to do and how to distinguish native plants from weeds, plus gain a satisfying volunteer experience that gets them outdoors and helps their community. Adopt-a-Raingarden is a great activity for scouts, congregations, school groups, everyday residents, or staffs from local businesses! Learn more or sign-up here.