Level 1 (Maximum $2,000)
The Landscape Level 1 Cost Share Program funds projects such as raingardens, shoreline restorations, infiltration projects, native vegetation restorations, and other projects that protect and enhance water quality and native habitat. This is a reimbursement grant program that will reimburse up to 75% of the cost of materials and approved labor, up to an amount of $2,000. This grant program does not fund traditional landscaping practices, but rather, Best Management Practices (BMPs) that help to achieve the goals of VLAWMO's Comprehensive Watershed Management Plan, and provides water quality improvements. There is limited funding that renews annually for the Landscape Grant Programs, and applications are funded on a first-come, first-serve basis.
If you have an applicable project that you believe may qualify for Landscape Level 1 grant funding, please contact Tyler Thompson (contact information below) to schedule a site visit on your property and to discuss your project. It is recommended that grant applications are not submitted before meeting and discussing with staff. Please review the Landscape Level 1 Guidance Document for specific details on eligibility and grant terms.
2020 Landscape Level 1 Cost Share Program Update: Targeted Priority Zone Funding
At the end of 2019, the Landscape Level 1 reimbursement cost share program was updated to include special funding allowances for qualifying projects in targeted areas. There are two types of new priority zone funding: Targeted Volume Reductions Zones (TVRZs) and Targeted Habitat Priority Zones (THPZs). Qualification for special funding is based on a project's geographic location within the VLAWMO Watershed. VLAWMO staff member, Tyler Thompson, is available for any assistance in determining if a potential project may qualify.
The Targeted Volume Reduction Zones have been identified as areas where increased stormwater runoff infiltration into shallow groundwater, via raingardens or infiltration projects, has a special priority. In the TVRZs, to receive greater funding amounts up to $4,000, the proposed project must infiltrate at least 40% of the annual volume of runoff stormwater volume on the property. 
Targeted Habitat Priority Zones are locations that have been identified by the Minnesota DNR as either a Native Plant Community that has been minimally affected by human development and should be preserved, or high-potential areas for Rusty Patched Bumblebee habitat that should be preserved or restored. In these areas, VLAWMO incentivizes native and pollinator habitat plantings by reducing the required applicant grant match amount from 25% down to 10%, up to a grant application amount of $750. For applicants in THPZs requesting greater than $750 in funding, the applicant match amount increases back up to 25%, but the reduced 10% grant match still applies to the first $750 in funding. Again, Tyler Thompson is available to help determine if an applicant meets the requirements for incentivized Targeted Priority Zone funding.
To find out if your project may be in either priority zone, please enter your address into VLAWMO's interactive GIS map and select the "Cost Share Targeted Volume Reduction Zones" or "Cost Share Targeted Habitat Priority Zones" within the layer list.
To view and download the Landscape Level 1 application PDF, please click here. Once you have consulted with staff, and a site visit has been completed,  please submit your completed application to Tyler Thompson either electronically via email at tyler.thompson@vlawmo.org, or by paper copy, either mailed or in-person to:
Tyler Thompson
800 County Road E East
Vadnais Heights, MN 55127
Please contact Tyler at 651-204-6071 for any questions or assistance regarding the program.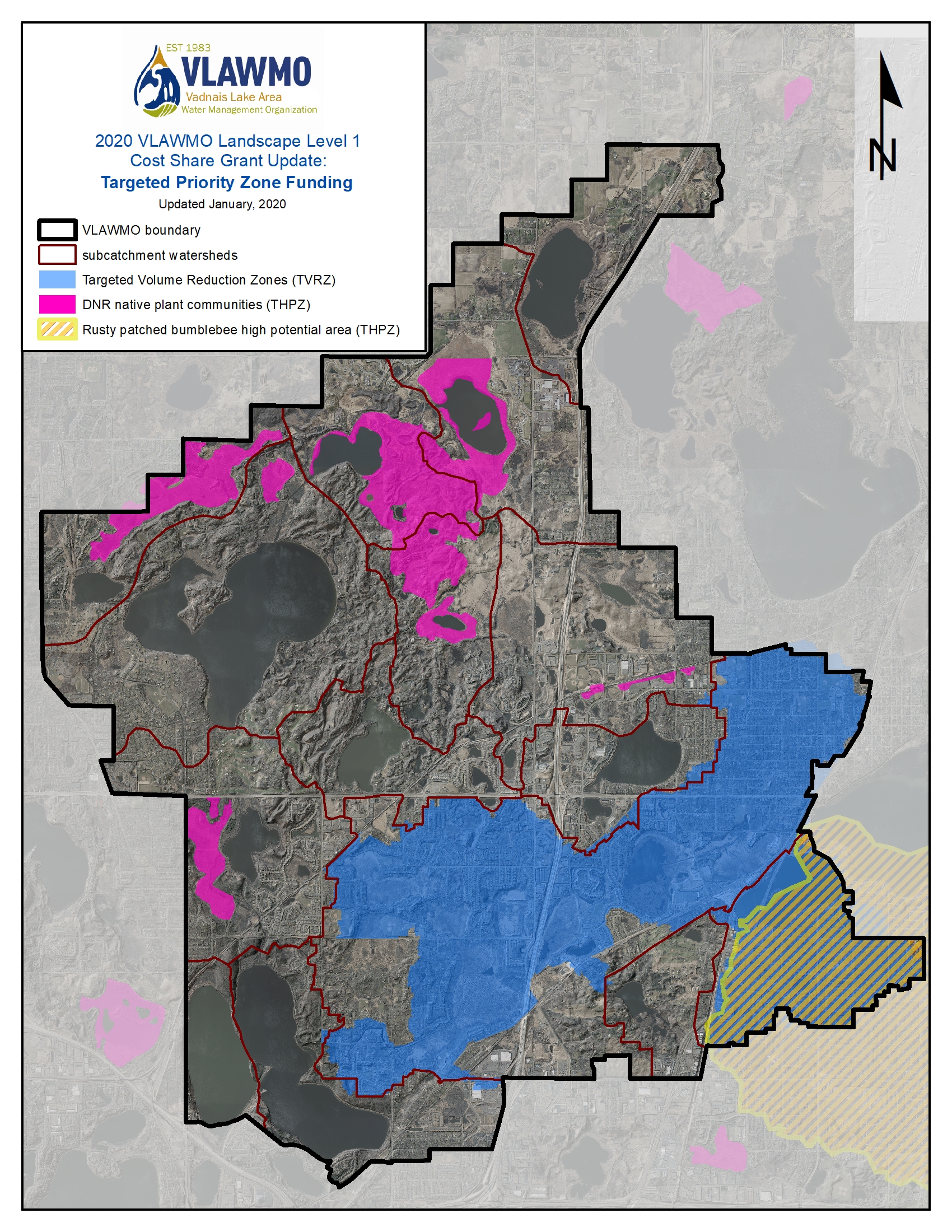 View examples of eligible project types
Raingardens

Redirect water runoff projects

Volume reduction and runoff treatment projects (infiltration basins and trenches, cisterns, green roofs, filtration)

Unique solutions for soil erosion and sediment control practices

Native habitat restoration with priority given to waterways, lakes, ponds, buffers, and wetlands

Purchase of rainbarrels to recycle rainwater

Pervious asphalt and pavers

Examples of non-eligible projects include:
Aeration systems for ponds and lakes

general landscaping with no water quality benefit
Level 2 (Maximum $20,000)
Apply for a Landscape Level 2 Grant
The Landscape Level 2 Program is for larger scale projects (minimum TOTAL cost of $5,000). The grant can cover up to 75% of the costs and total amount awarded will depend on the decision of the VLAWMO Technical Commission who reviews the applications with final approval coming from the VLAWMO Board of Directors.  Past Landscape Level 2 Cost Share Projects include the raingardens in the playground area of White Bear Montessori School, the green roof on the City of White Bear Lake Public Works facility and the creek restoration at the White Bear Preserve Townhomes.
View Level 2 Grant Guidance for more information about the terms of the grant.
View examples of eligible project types
Curb-cut raingardens

Stormwater retrofit projects that go above & beyond permit requirements

Redirect water runoff projects

Volume reduction and runoff treatment projects (infiltration basins and trenches, cisterns, green roofs, filtration)

Unique solutions for soil erosion and sediment control practices

Native habitat restoration with priority given to waterways, lakes, ponds, buffers, and wetlands

Pervious asphalt and pavers

Examples of non-eligible projects include:
Aeration systems for ponds installed mainly for aesthetics with limited water quality benefits.

Landscape projects that have little to no water quality benefit

Restoration work which the applicant has been required to complete