PICTURE POSTS
Picture posts are a fun, easy way for hikers, dog-walkers, and fishing folks to help monitor changes in our watershed.  
Rau Hmoob: nyem qhov no    

Para Español: haga clic aquí 
What is a Picture Post?
A picture post is a post dug into the ground with an octagon or similar shape on top. The top of the post guides volunteers in taking a series of photos in a panorama. Posts are placed along trails and walking paths to observe lakes, streams, and wetlands. Over time, these photos help us understand changes in our aquatic and shoreline environments. Some things observed in the photos include ice conditions, algae blooms, aquatic vegetation, shoreline changes/erosion, and and water level changes.
Photos are uploaded and organized through the Picture Post website. 

Active Posts in VLAWMO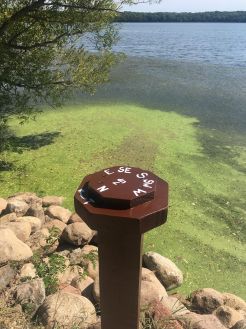 Find a post near you or browse the database of uploaded photos. Click here for instructions on how to participate. 
Posts in our watershed:
Tamarack Nature Center: Teal Pond
Deep Lake Channel (Private access)
Charley Lake Channel (Private access)
Build a Post
Do you live on or near a lake or wetland in our watershed? Residents can help monitor a favorite scenic view in the neighborhood by working with their neighborhood association, City, or VLAWMO. New posts should be publicly accessible and facing angles that don't photograph private property. 

Check out the Community Blue mini-grant for assistance in creating a post of your own.