View live flow and water level readings for Lambert Creek at the Lambert Creek waterbody page. 
View a presentation and download the report from a Lambert Creek Repair Survey completed in 2018.
Why does our watershed drain the way it does?
Wetlands in VLAWMO were formed 9,000-12,000 years ago by glacial activity. As the glaciers receded, depressions and glacial out wash were left on the land. Unlike deep glacial pothole lakes in northern Minnesota, the melt water and sediment dispersal in this region was relatively flat. These areas are where we find wetlands today.
A wetland is an area where water either covers the soil or is present near the surface. A wetland can hold water year-round or just part of the year, both of which influence vegetation, storage capacity, and local hydrology. 
While wetlands have been avoided and looked down upon for many years, they're also a part of the Vadnais Lake area history. They are the original flood control infrastructure, a natural purifier for drinking water, valuable wildlife habitat, and they replenish groundwater for the future. 
As seen in the map below, the VLAWMO watershed was historically a region of shallow lakes and wetlands. Upland areas consisted of wet meadow, prairie, oak savannah, and deciduous/mixed forest. Throughout the past 100 years, the region has largely been modified through drainage, channelization, and ditching as agriculture gave way to urban development. Some shallow lakes such as Lambert Lake no longer exist due to drainage, and many historic wetlands were filled and built upon. Some wetlands were transformed and consolidated into shallow lakes by filling their outlets and draining surrounding ponds and wetlands into them. While these changes weren't made with mal intent, they were also short-sighted for the needs and health of water resources.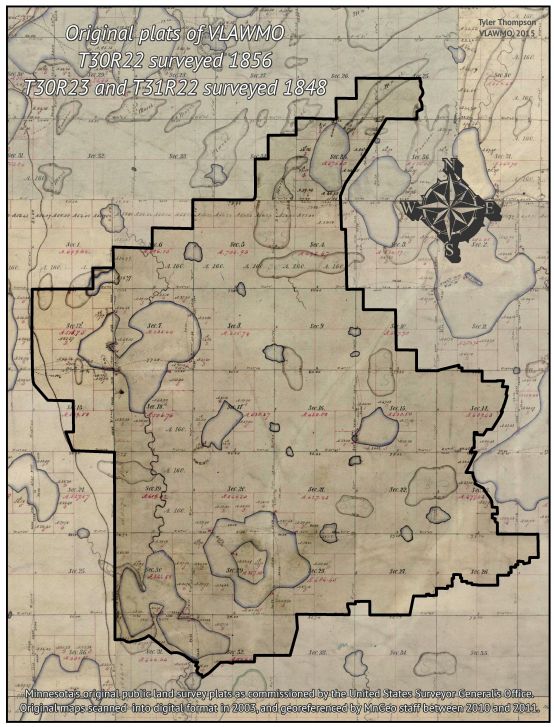 1940's-era Ramsey County Drainage Map
Shallow Groundwater
More than 50% of Minnesota contains shallow groundwater, a condition where a high groundwater table (saturated soil) is near the land's surface. This is often indicated by the presence of wetlands. Unlike deep ground water, shallow groundwater moves according to gravity across the earth's surface. Soil exposed to shallow groundwater becomes anaerobic, or hydric. While the water table changes year to year depending on rainfall and surface runoff, hydric soils retain the same chemical composure after shallow groundwater levels recede (part B in diagram below). When high rainfall follows a dry period, hydric soils quickly go back to acting like a wetland. While areas with wet soil can be a nuisance, it's important that the boundaries of our wetlands and floodplains are maintained and respected because they are a crucial part of the water cycle.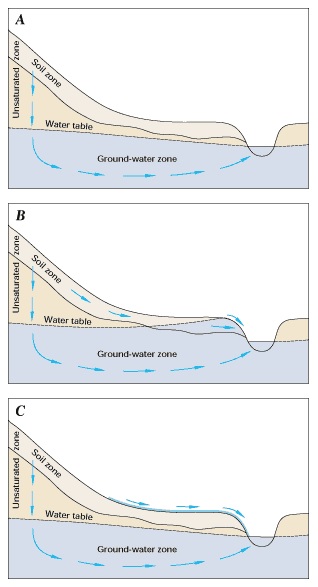 Why doesn't someone just dredge the ditches?
As ditch authority under Minnesota Statute 103B, VLAWMO is responsible for maintaining a reasonable function of the ditches and waterways in the Watershed. A 2018 feasibility study and Repair Report for Ditch 14 determined that the Ditch was adequately functioning and dredging repair urgency is not immediate, but should be planned and budgeted for. Click here for a list of reports and presentations on Lambert Creek/Ditch 14.
VLAWMO has since begun budgeting and planning for this repair, and has completed tree and debris clearing to restore and maintain more efficient flows in Lambert Creek. Hydrological studies determined that no structural damage was at risk after a 100-year storm event, except for one structure that was constructed illegally within a wetland boundary, and that the substantial issue continues to be nuisance flooding. With this result, it was determined by the VLAWMO Board of Directors that dredging was not a cost-effective option at that time, and that high water levels will continue to be intensively monitored, and debris clearing will be conducted regularly.
As per the VLAWMO 10-year water plan, future dredging projects are to be conducted in partnership with Cities and Townships in the watershed. Branch ditches to Ditch 14 (Lambert Creek) fall under City and Township responsibility, again in partnership with VLAWMO on a project-by-project basis.
Living near a wetland or ditch can require some patience and flexibility. While it may be tricky to maintain a green lawn in such areas, it is possible to live in harmony with wetlands and floodplains. With some planning and patience, VLAWMO is here to help create solutions that work for both people and water resources. Options include:
Fill: Do's and Dont's
Don't: Lay fill within a wetland boundary. While filling in soggy areas seems like an obvious solution, it is best done sparingly and cautiously. Because half of Minnesota's wetlands have been lost to filling and drainage, the Wetland Conservation Act protects this important resource.
Do: Check where fill can go. Before filling, a wetland delineation should occur to determine where fill can and can't be placed. Where allowed, filling may provide solutions in certain areas of the watershed. In some cases however, it has shown to be ineffective due to hydric soils existing below new fill. Contact VLAWMO staff for assistance with working around wetland boundaries. 
Raingardens, Dry Creeks, and Splash Guards
Homeowners in VLAWMO have used VLAWMO's cost-share funding to build over 60 private property raingardens. With planning and design assistance from VLAWMO or qualified contractors, raingardens help control where water goes while allowing it to soak into the ground naturally. Features such as splash guards, dry creeks, and underground retention basins often accompany them to help guide water to intentional areas. In areas with pooling or wide drainage dispersal, raingardens have been used to effectively consolidate water and free up yard space for enhanced recreation. 
Native Plantings and Groundcovers
Because hydric soils retain their memory of being saturated, they will quickly become saturated again when conditions are favorable, with or without extra fill. Wet-tolerant plants are an option for working with difficult wet areas and for making buffers to secure wetland borders. In times of a high water table, native plants and ground covers can ease the burden of needing to mow wet turf. Deep-rooted native plants and similar perennial vegetation may imply sacrificing some open space, but these plants stabilize soil and help take up water in difficult areas.  Deep roots of native plants are benefitial to wetlands and lakes because of their ability to hold and filter water as well as reduce sedimentation. When adapted on a large scale, native wetland buffers act as a sponge for regional flood control. VLAWMO strives to offer tools, workshops, and cost-share resources to help property owners create custom solutions that support the yard and the watershed. 
See our wetlands page or buffers info sheet to learn more.
Practical Plantings: Simple ground covers and bulky, unified plantings to help fill space. A great way to plant in hard to reach or hard to mow places when complexity isn't of interest. 
Wet Soil Specialists: Plants to help wet areas appear intentional, avoid die-off from inundation, and benefit wildlife.
Every property has factors that could call for one or a combination of these strategies. Contact (651) 204-6071 to request a free on-site visit from VLAWMO staff to discuss your needs and the possibilities for your yard.