In late 2017 VLAWMO began an extensive survey of Lambert Creek with the help of Houston Engineering. Click here for the 2017 news article describing the start of the project. 
Find the completed report here. 
Click here for the video presentation of the report presented to the VLAWMO Board of Directors in August, 2018. 
Click here to link to the Lambert Creek Historic and Current efforts page, including the latest Lambert Creek repair report.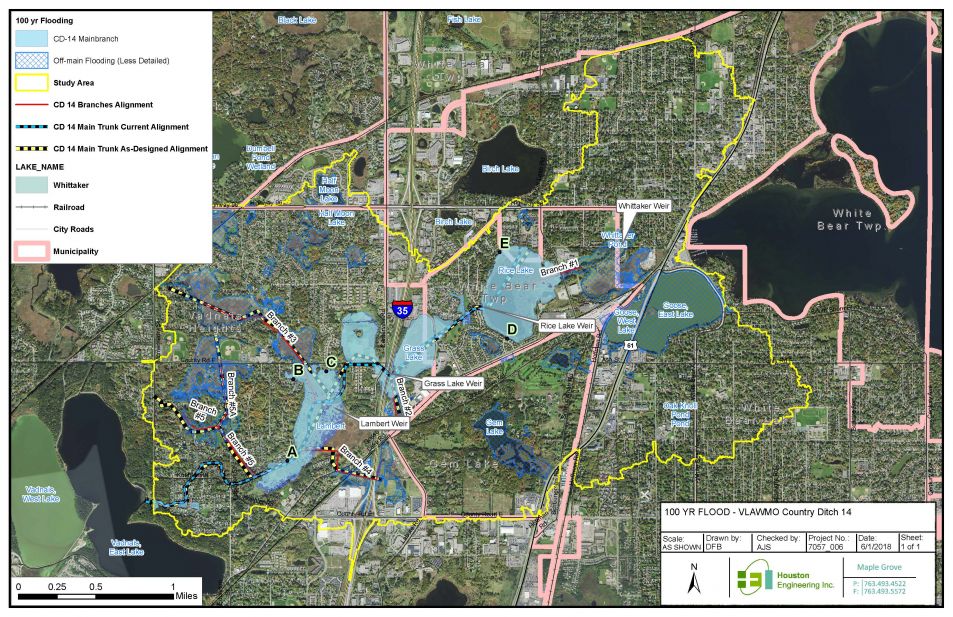 The survey used historical documentation with hydrology & hydraulic modeling (H & H) to assess the main creek in addition to it's branch ditches. Additionally, it sought to identify areas that may require repair or maintenance to return the system to its as originally constructed condition.  If the original condition isn't possible, the model will aid in assessing which improved conditions are feasible. This concept of the current alignment of Ditch 14 and its branch ditches, based on past improvements, projects, and development is termed as As Constructed and Subsequently Improved Condition (ACSIC).
Now with the survey and model complete, VLAWMO has a valuable tool for future planning and decision making. Assets include:
A survey and documentation of elevations for baseline reference.

A guide for effectively re-establishing the ditch system.

Documentation of 2, 10, and 100 year flood elevations.

An XP SWMM model that enables analysis of improvements, providing guidance for cost-effective actions.

Repair options that benefit future planning and decision making

for reasonable function of the Ditch

.
Additional layers from the model will be available for review on our interactive GIS web page in November, 2018.