$97,000 in Clean Water grants awarded to VLAWMO for a Birch Lake Protection Project
Birch Lake is one of the cleanest lakes in the VLAWMO watershed, but there's one issue holding the lake back from its full potential. 
Stormwater sampling has revealed that an existing wetland northeast of Birch Lake is not operating at an optimum level. While the wetland would naturally serve to capture contaminants and reduce incoming nutrients into the lake, VLAWMO staff has documented high levels of phosphorus leaving the wetland. 
Reducing this phosphorus would help protect Birch Lake's water quality and reduce nutrients that fuel algae in the lake. To do this, the project will install more storage capacity for incoming stormwater, which will allow the wetland to infiltrate the water more efficiently. Additionally, an iron-enhanced sand filtration system will treat a portion of the water before it reaches the lake. VLAWMO worked closely with the City of White Bear Lake and the Birch Lake Improvement District (BLID) in the initial planning of the project. VLAWMO staff will now be working with the State to finalize grant paperwork and reach out to landowners and other stakeholders to gather their input regarding this project.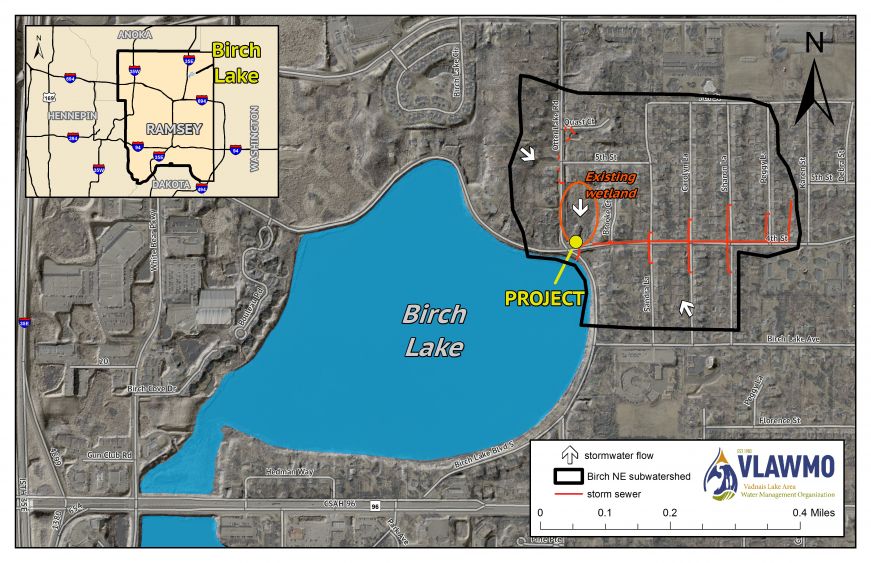 This project has been awarded funding from the Minnesota Board of Water and Soil Resources (BWSR) through the Clean Water, Land and Legacy Amendment. Since the Amendment was passed by Minnesota voters in Nov. 2008, more than $143 million has been invested in "on-the-ground" projects. Citizens and local governments have installed more than 6,872 conservation practices to improve the quality in the state's lakes, rivers and wetlands. 
"Local government staff and private landowners are working in partnership with the state to make a difference for water quality throughout Minnesota" said BWSR Executive Director John Jaschke. "By using sound science and on-the-ground knowledge and experience, our local government partners are able to identify projects that target the most critical areas, and therefore maximize the public benefits of the Clean Water Fund".
In this grant cycle 93 applications were received, totaling $23.3 million in requests for the $6.5 million in available funds. 30 applications were funded.
The project will begin in 2018.