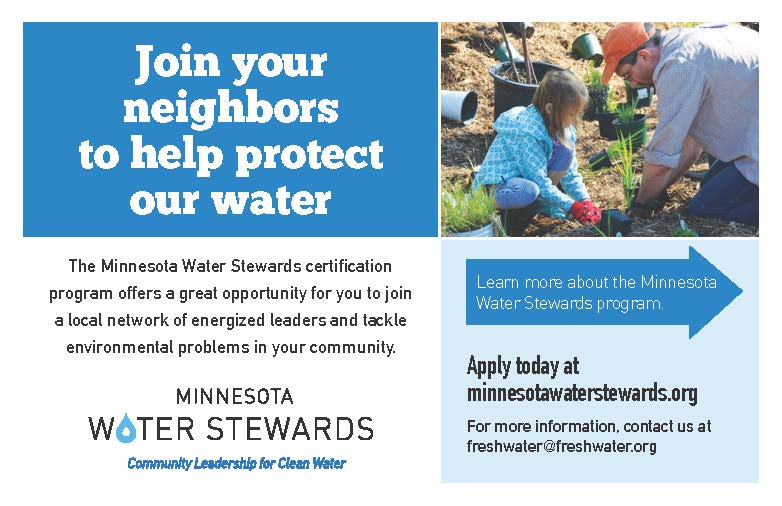 We're recruiting! 
Are you interested in water and natural resources, and feel led to be involved in a way that matters? The Minnesota Water Stewards program may be just the ticket. VLAWMO has two openings to join our growing team of Minnesota Water Stewards in 2021. 
This program includes getting sponsored by VLAWMO in an exceptional (online) training, hosted by the nonprofit Freshwater Society. This training is led and facilitated by experts in the field, giving volunteers the background and skills to boost their projects and efforts. After the training, VLAWMO helps guide and fund capstone projects that plug Stewards into their communities with installation or education-based projects. Along the way, Stewards network and collaborate with hundreds of other program participants around the Metro who have or are doing similar work. When the training and capstone projects are complete, VLAWMO works with each individual Steward to maintain a meaningful volunteer position that applies their skills and interests to our local watershed. 
Four info-sessions are planned for October-November - attending one is required to apply for the program. Applicants apply through Freshwater and connect with VLAWMO with a casual interview to outline goals and interests in the program. Applications for VLAWMO sponsorship are due by November 30th, 2020.
Register for online info sessions here
Tuesday, October 13, 2020, 5:00 pm
Tuesday, October 27, 2020, 12:00 pm
Tuesday, November 10, 2020, 5:00 pm
Tuesday, November 17, 2020, 12:00 pm
Connect with us today for questions, we're excited to get to know you!