VLAWMO is pleased to present its first annual award recipient for the Watershed Steward Award. This award is selected by an open nomination process, and is voted on by the VLAWMO Technical Commission (TEC). Through it, VLAWMO thanks and recognizes watershed leadership efforts. Examples of watershed leadership include project planning/networking, education support, volunteering, stormwater management, and salt or turf maintenance improvements. 
Check out our Watershed Steward Award web page for nomination forms and more examples of how to be eligible to win. Nominations are accepted any time, and self nominations are also accepted! 2020 nominations will be voted on in November, 2020 and a winner will be presented in December, 2020.
Honorable Mention: Susan Miller
Susan has been an active volunteer with VLAWMO since 2018, contributing to a variety of efforts and logging over 50 hours of volunteer time in 2019. VLAWMO is thankful for her dedication and sincere interest in making a positive difference for the watershed and her community. Susan's accomplishments include: 
Monthly Picture Post photo taking

Monitoring for Aquatic Invasive Species (AIS) 

Adopt-a-Raingarden at Gem Lake Heritage Hall 

Trash pick-up event at Vadnais Lake 

Assisting the VLAWMO booth at public events

Buckthorn removal 

Watershed role play game design and review
2019 Winner: Diane Gorder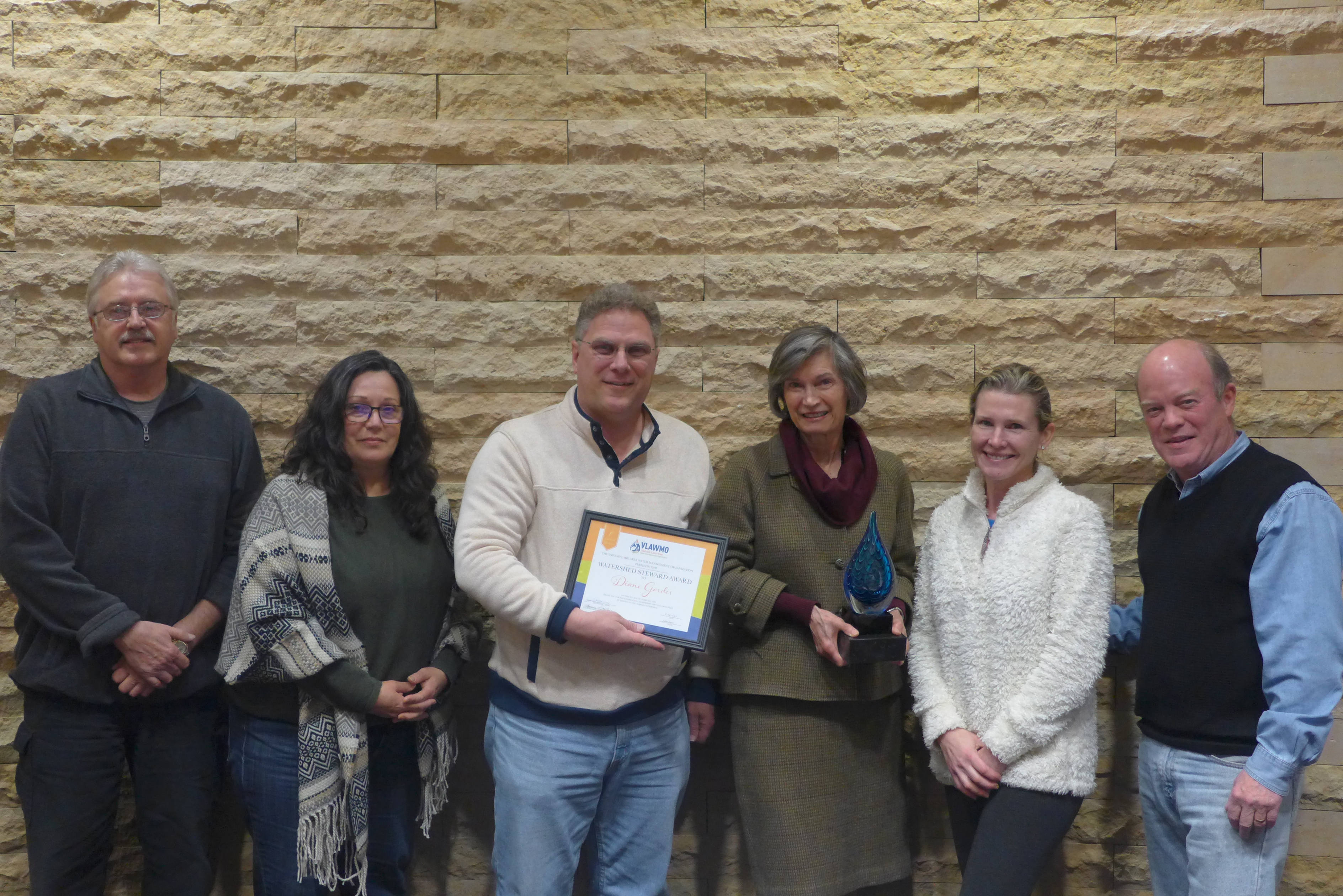 Diane has been an instrumental part of VLAWMO's work in the City of North Oaks. Through her roles in the North Oaks Environment and Sustainability Team (NEST) and North Oaks Home Owner's Association (NOHOA), Diane has networked, attended many meetings, surveyed, and followed-up on many watershed improvement efforts. Her accomplishments in watershed leadership include: 
Conducting stakeholder surveys and planning stakeholder meetings for the formation of Sustainable Lake Management Plans (SLMP's) in North Oaks Lakes such as Pleasant, Wilkinson, and Charley Lakes. 

Spearheading maintenance on existing shoreline restorations. 

Planning and coordinating picture posts (environmental monitoring) on Pleasant Lake. 

Networking to place remote cameras in North Oaks to capture wetland wildlife. 

Completing an independent cost-share project on her property that stabilized soil and introduced native vegetation that benefits the watershed. 

Coordinating carp removal, lake sedimentation solutions, and invasive species control. 

Serving as a liaison to North Oaks in the VLAWMO Technical Commission (TEC). 
Diane's nominator writes: 
"Diane is passionate about improving the environment and water quality. She has a long-term vision, is a skilled communicator, effective at networking, and understands how to connect people on challenging projects to keep initiatives moving. She doesn't give up or get disheartened; instead she finds a way and makes the process enjoyable for everybody involved. She is interested in natural history and sees that helping others understand nature is important for improving water quality. She finds ways to facilitate formal and informal sessions where people learn more about wildlife, habitat, and water quality, and she makes it fun." 
On behalf of the VLAWMO Board and Staff, thank you Diane for your leadership and service!