Recent updates:
September 5, 2022: Water Quality Filter Project at Whitaker Pond: Pre-construction info flyer
September 29, 2022: Construction begins Friday, September 30th and is estimated to be complete the week of October 10th, 2022. The first few days of construction will include site preparation such as installment of a silt fence and erosion control measures. Traffic control will be present for moving equipment on-site, and work crews will also be present over weekends during construction. 
Quick Facts:
Whitaker Pond was built in 1996, with a forebay added in 2010.

The filter uses a material called biochar. Biochar is a charcoal-like substance made by burning organic material, usually agricultural and forestry wastes. It's commonly used as a soil additive for enhancing structure and water retention, but also acts as a filter.

The biochar filter system is 1,650 sq ft.
Funding:
This effort is being funded through two State /Federal Grants.

Watershed Based Funding from the MN Board of Water and Soil Resources (BWSR).

US Environmental Protection Agency (EPA) 319 grant funds administered by the Minnesota Pollution Control Agency (MPCA) with a local match funding from VLAWMO.
Reason for project:
Timeline:
Draw down pond prior to construction: Fall, 2022

Install underdrain that will channel filtered water into Lambert Creek

Building the "biochar bench" above the underdrain

Anticipated completion: Winter 2022/23
Results:
Goal: Improve health of Lambert Creek and by extension East Vadnais Lake.
For more background on how Whitaker Pond has changed over the years, check out the History of Whitaker Pond.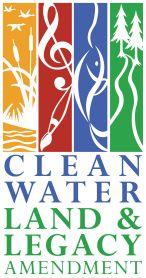 Project Image Gallery