Quick Facts:
Maintenance was conducted on approximately 700 ft of Lambert Creek/Ditch 14 to improve drainage and remove accumulated sediment. The location of this maintenance is between Oak Creek Drive and East Vadnais Lake.
Funding:
Funding for this effort was budgeted from VLAWMO 2020 capital improvement projects. 
Reason for project:
This project was prioritized according to a 2018 Hydrology and Hydrologic (H & H) modeling study conducted by Houston Engineering as well as upstream flooding issues on the ditch. This study with a recording of a summary presentation can be found on the VLAWMO website here. The location of the project was highlighted as a high priority area for dredging due to the large volume of sediment accumulated at the site. As the end of Lambert Creek that outlets to East Vadnais Lake, it acts as a final outfall for accumulation from upstream. 
Construction:
Phase one of the project took place on December 1st, 2020. This included the lowering of a culvert under the Ramsey County Parks trail, removal of an outdated St. Paul Regional Water Service (SPRWS) weir just upstream of East Vadnais Lake and ditch dredging to the as-built condition (ACSIC). See the ACSIC (As-Constructed and Subsequently Improved Condition) highlighted in green in the slideshow below. Dredging occurred from East Vadnais Lake to just downstream of Oak Creek Drive. Work and access took place on SPRWS property entering from the trail access on McMenemy Street, with no road closures to Oak Creek Drive. The recreation hiking trail on the East Side of East Vadnais lake was closed during project construction. 
Permits for the project were issued from the Department of Natural Resources (DNR), Army Corps of Engineers (CORPS), and Wetland Conservation Act (WCA) for this work. Liability contracts have been signed with Ramsey County and the SPRWS. Scandia Trucking & Excavating were contracted for this project. 
See slideshow below for photos and project maps. 
For questions or concerns, contact Brian Corcoran, Water Resources Manager.
651-204-6075
Results:
The pre-existing culvert beneath the Vadnais/Sucker Lake Park trail was lowered approximately 1.5ft, an outdated weir removed, and 700 ft of Lambert Creek/Ditch 14 was dredged (approximately 1.5ft) to the as-built conditions. Dredged material was permitted to be side cast along the creek. VLAWMO will continue to work up-stream on Ditch 14 in subsequent future phases to improve flow and reduce flooding.

Project Image Gallery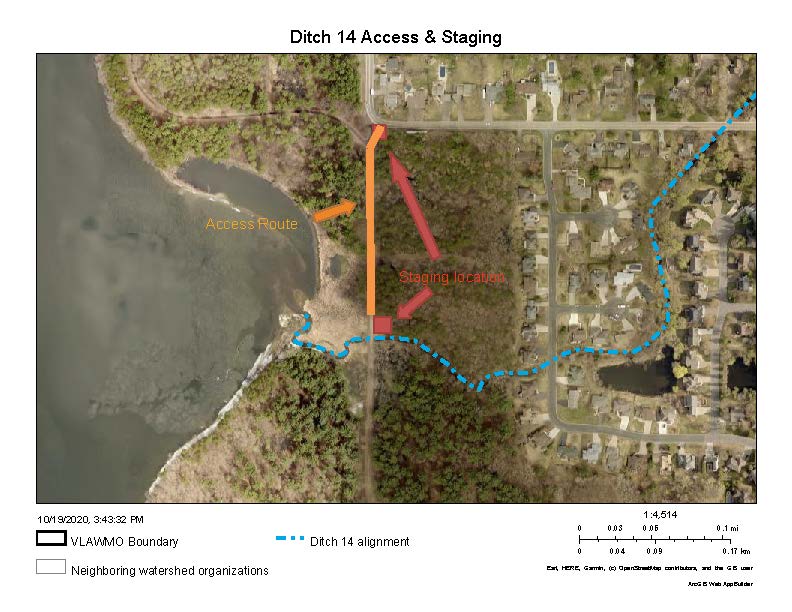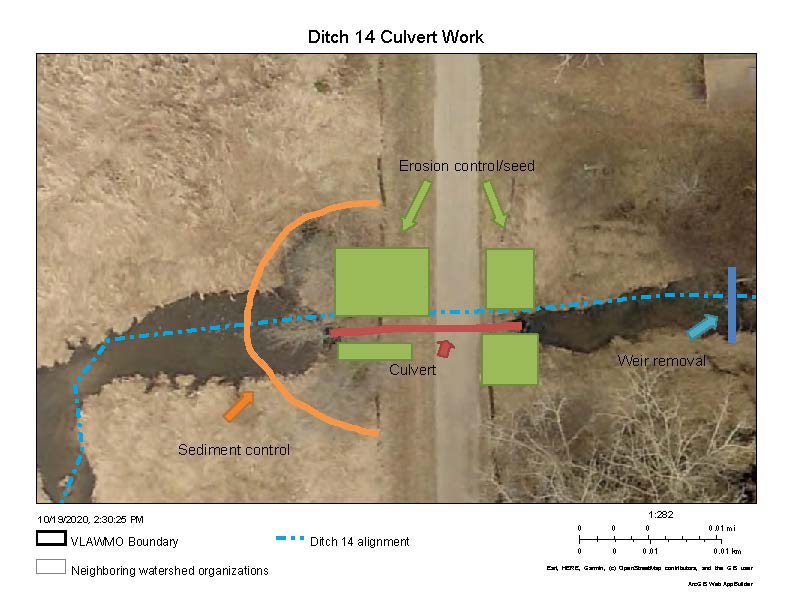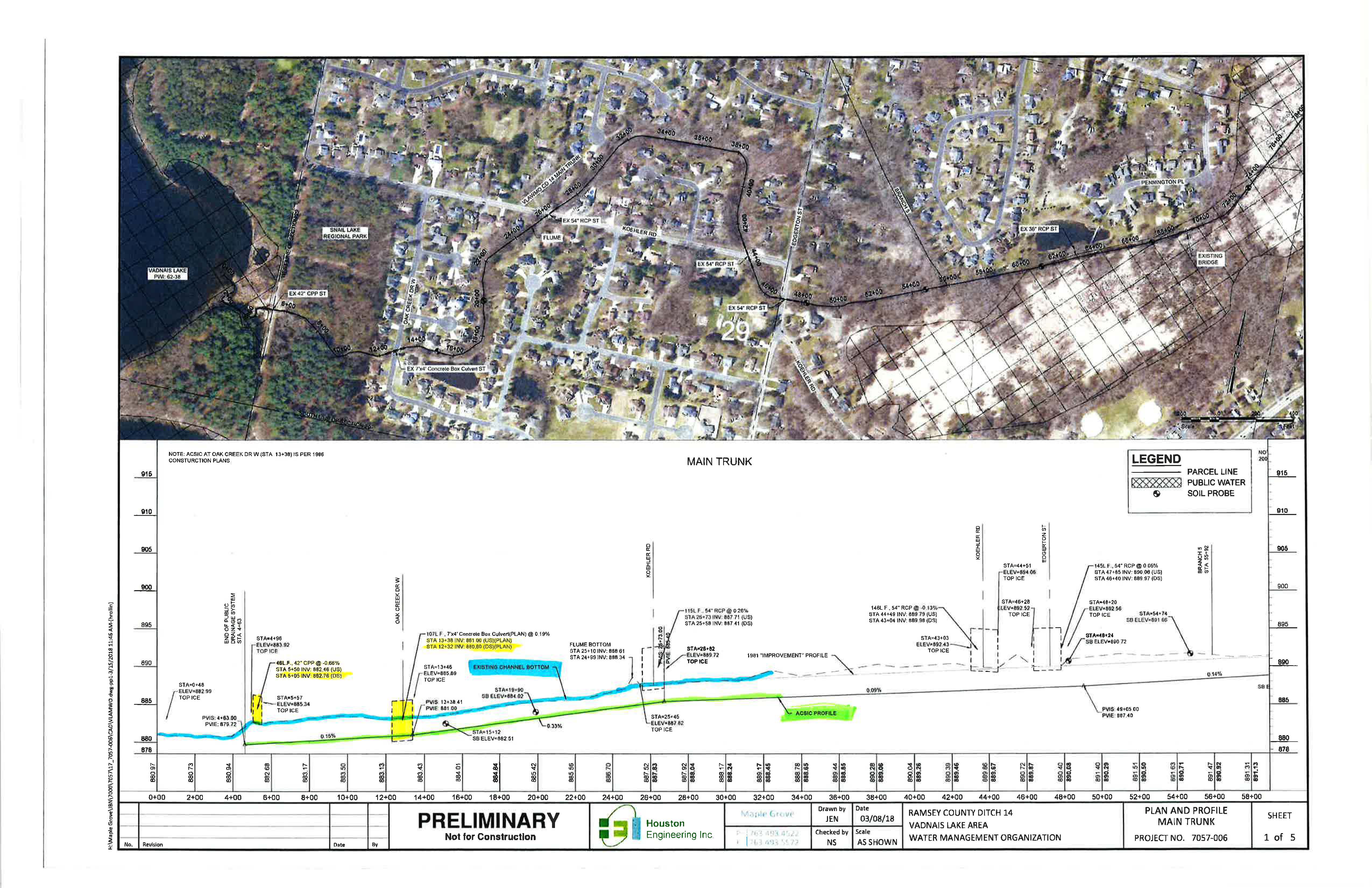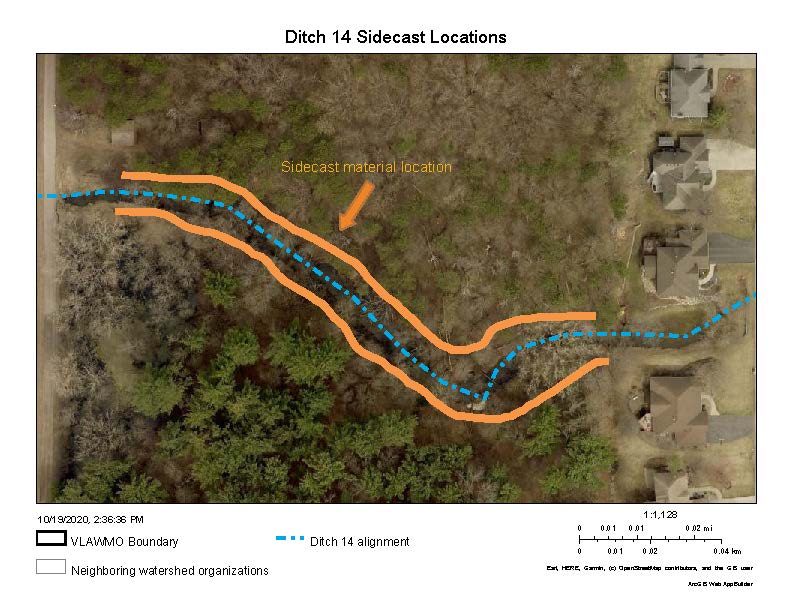 Pre-Construction: 
Construction: 
Post-Construction: