Angela and Tyson's raingarden started in 2014, stemming from her quest to prevent water from ending up in the wrong places. When they moved in, rooftop and driveway runoff had a bad habit of pooling near the home's foundation, inevitably ending up in the basement. In her pursuit to avoid such headaches, Angela found a VLAWMO raingarden workshop and started gathering puzzle pieces. After the workshop not only was she equipped with tools for building a raingarden, but had a framework for how to place it and shape it on the property and direct the flow of water to a more favorable place. 
Several years later, Angela's and Tyson's raingarden has matured into a lush plant community, and her wet basement issues are a thing of the past. While the overall project appears to be close to the house, the rainwater collection basin is positioned safely over 10' away from the basement foundation. This blended appearance was made possible because the front porch of the home, which is closest to the basin, has no foundation or basement beneath it. VLAWMO staff had a blast seeing this project unfold with such a custom fit to the property's shape and needs. As an added bonus, Angela and her husband have enjoyed the habitat and aesthetic value over the years! Customizations have included the introduction new plants such as obedient plant, an additional raingarden behind the garage to capture garage rooftop runoff, and two rainbarrels linked from the downspouts, which once full, direct overflow into the main raingarden.
Installation: 2015
Project size: 544 ft2
Drainage area into project:  925.50 ft2
Volume of water generated in project drainage area: 576 gallons per 1 inch of rainfall, or ~15 bathtubs
Basin depths and overflow design: The basin is 154 ft2 and has a varied depth of 3" to 6". Based on infiltration, the rain garden can easily handle 1,152 gallons at once. 
Annual stormwater volume reduction: 110,464 gallons/year    ~2,762 bathtubs/year
Total phosphorus (TP) reduction: .057 lbs/year
Total suspended solids (TSS) reduction: 10.4 lbs/year
Native plant list:
Butterfly Milkweed, Side Oats Gramma Grass, Wild Petunia, Big Blue Stem, Pale Purple Coneflower, Prairie Blazing Star, Culvers, Root, Smooth Penstemon, Joe Pye Weed, Fragrant Hyssop, Ohio Spiderwort, Sky Blue Aster, New England Aster, White Upland Aster, Wild Bergamot, Boneset, Iron Weed, Prairie Smoke, Double headed coneflower, Cardinal Flower, Blue Lobelia, Wild Columbine, One unidentified Sedge. And a Partridge in a pear tree!
Raingarden Chat with Angela Marlette:
What motives did you have as the project was designed and built?
Our main goal was to mitigate the water that would collect near the foundation of the house and eventually enter the basement. We knew a sizable swale would be needed and we're excited that both water-loving and prairie natives could then be used.
What do you enjoy most about the raingarden/native planting?
Watching the garden come back to life each spring, finding new homes for all the babies, harvesting seeds to give away, listening to the bees visiting the flowers, watching each month bring a different garden bloom, and knowing we are allowing more water to enter back into the aquifer rather than run straight to Vadnais Lake.  
How has it changed your interaction with your yard?
There is not a day that goes by, spring thru fall, in which we fail to enjoy the changes happening in the rain garden. After 6 years, we gauge time by what the garden is doing. We know when to expect monarch butterflies to visit, first to lay eggs and later to feast on Prairie Blazing Star for their journey to Mexico! 
Each year we seem to find new places to grow native plants in our little yard!  What would have been struggling lawn or rock fill are now home to native plantings and mini rain gardens.
Is it working as you intended it to? What is the most challenging part of the raingarden/native planting?
Overall, the water entering the basement has been mitigated and we have a lovely garden that comes back each year. But a challenge is making the tough decision of what to do with seedlings or plants that need thinning. Since we found out that we can get free mulch at Ramsey County Yard Waste sites, that is no longer a challenge.
What has surprised you as you've maintained the garden and watched it grow?
How much I enjoy puttering in the garden and learning more about propagating native species. Even more than my vegetable garden.
What would you do differently if you created another garden/native planting?
I would have allowed a little more room between plantings (things will grow in over time). And made it bigger!
Visit the Landscape Grants web page for the cost-share resources that supported this and dozens of similar efforts in the watershed. Applications are now being accepted for 2021!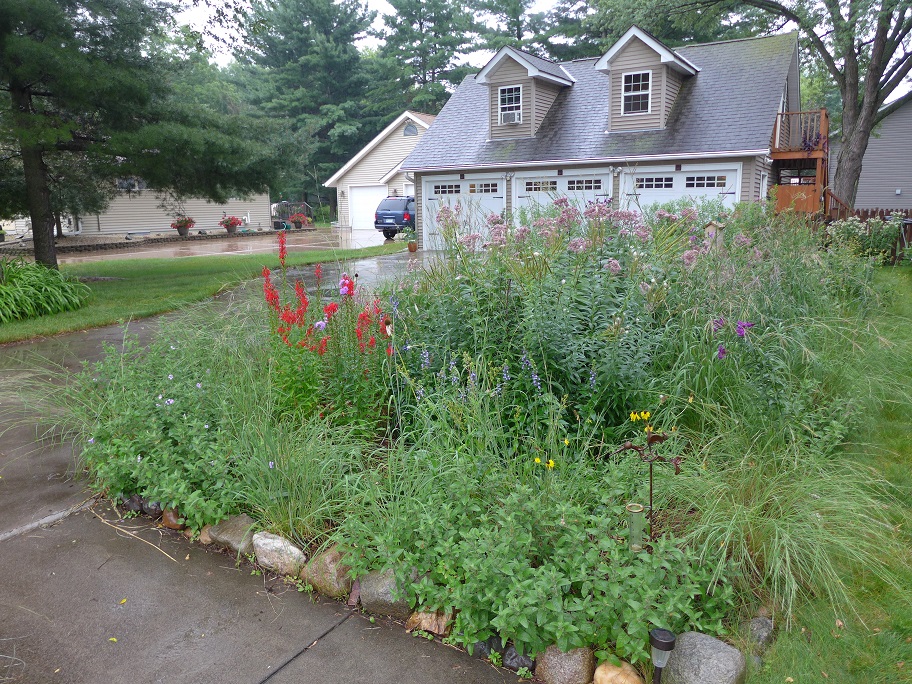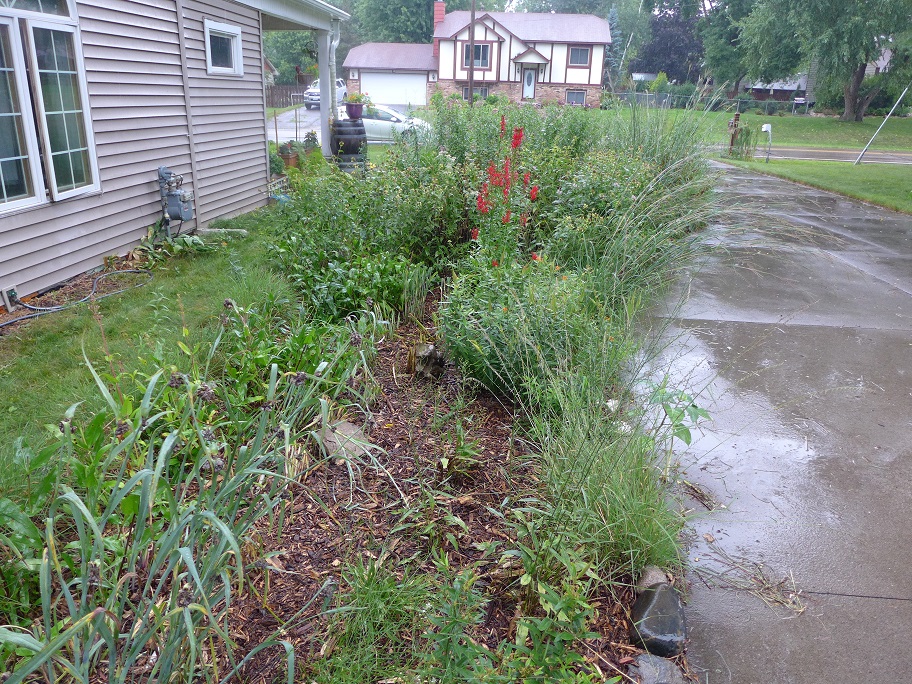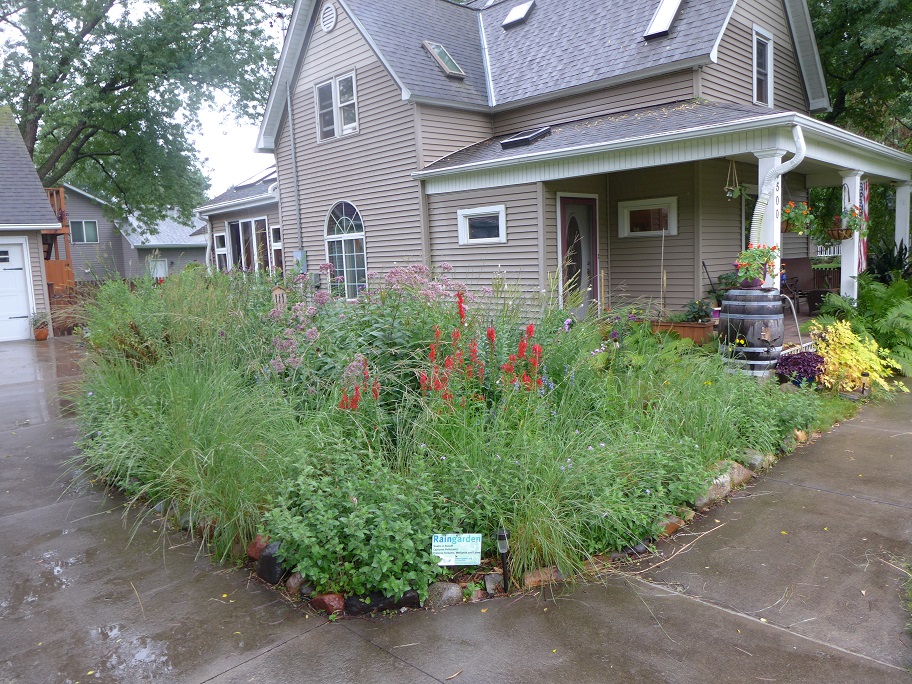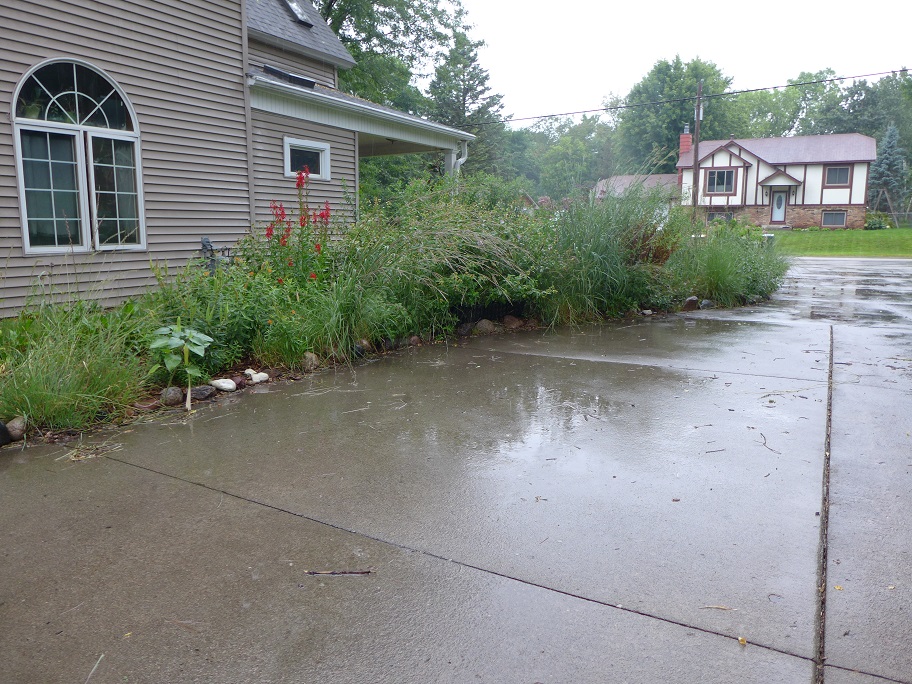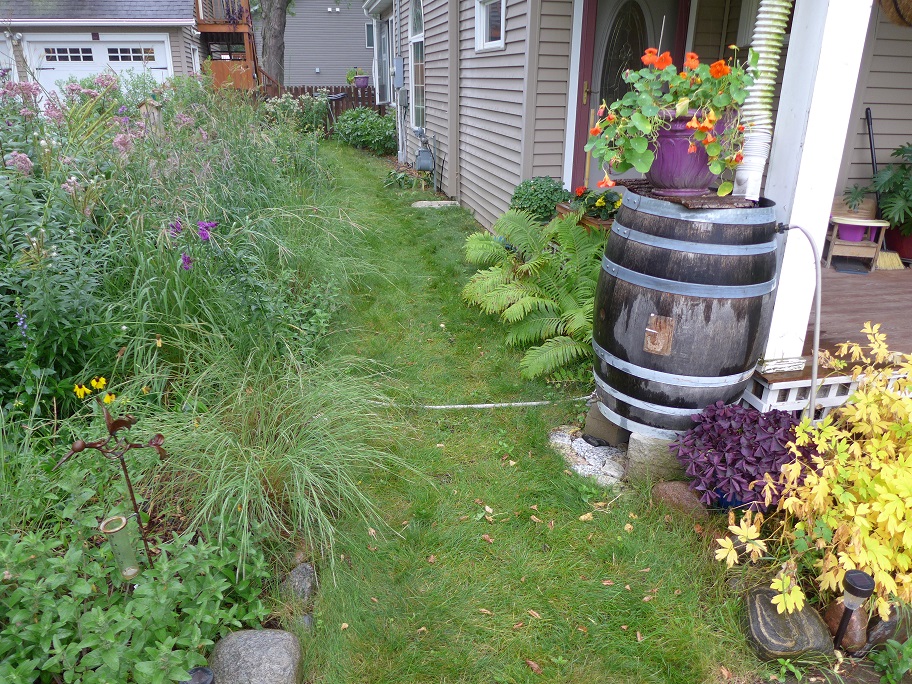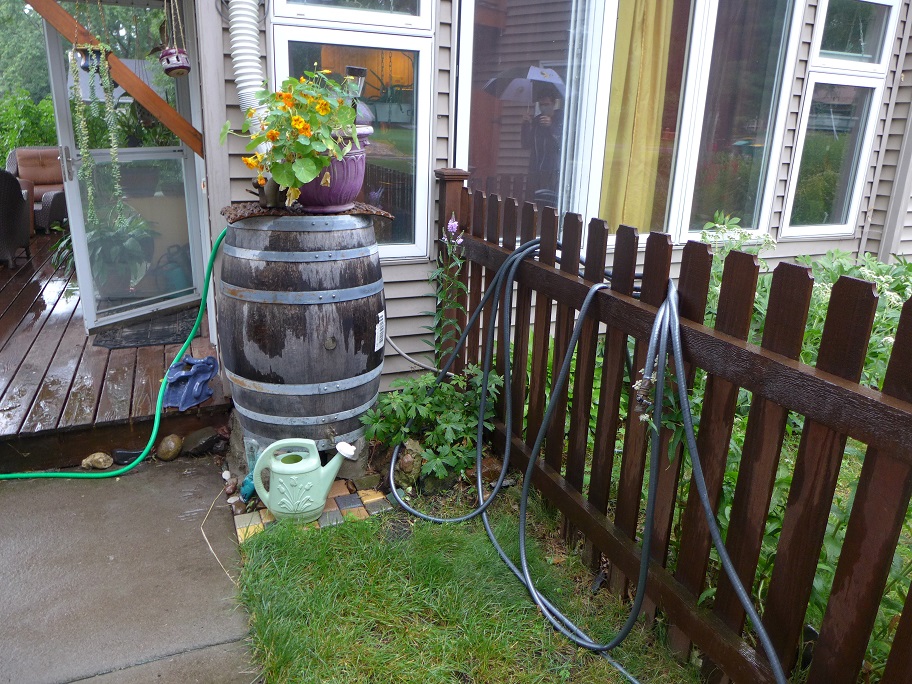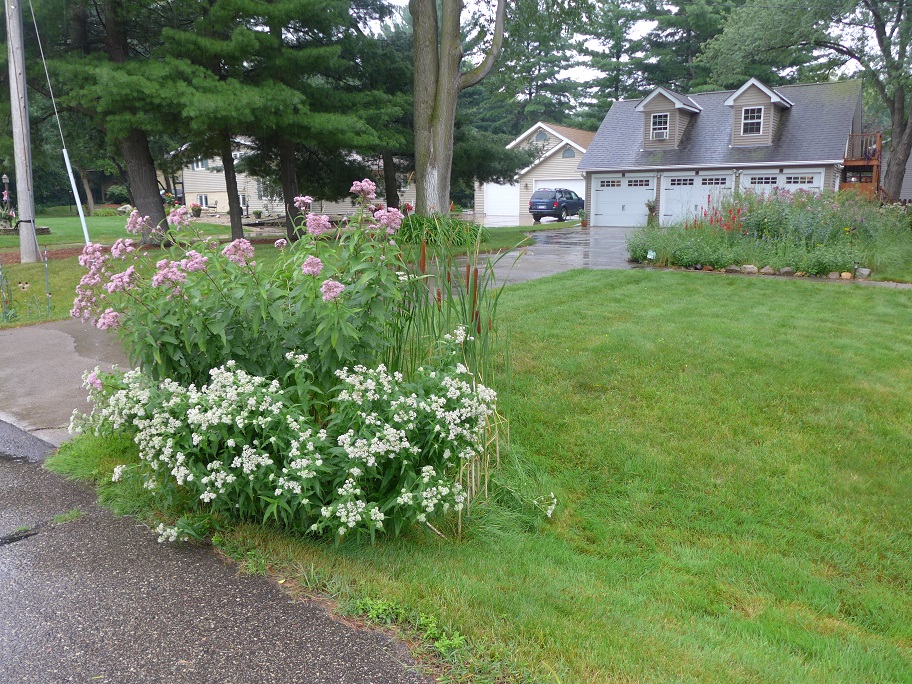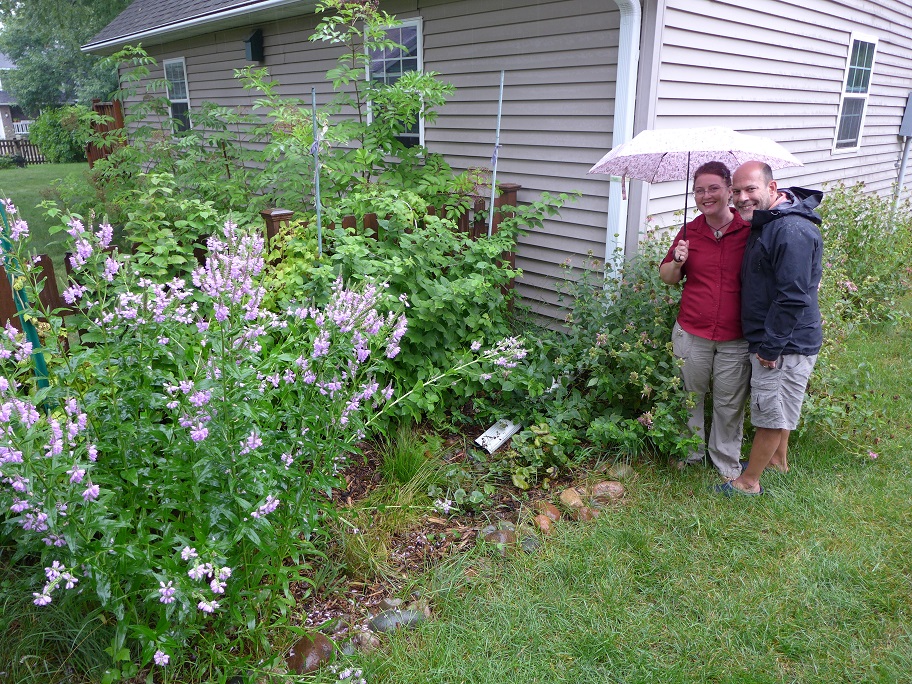 Construction Gallery: