Glacial Wetlands
Wetlands in VLAWMO were formed 9,000-12,000 years ago by glacial activity. As the glaciers receded, depressions and sediment were left on the land. Many of the depressions were filled with water if the drainage in the area was poor, or if the land surface was close to the water table. These areas of land are what we now call wetlands.
A wetland is an area where water either covers the soil or is present at or near the surface of the soil. Water can be present continuously or just part of the year to create wetland conditions, influencing the plants, soil, and hydrology in the area. 
VLAWMO has many low-lying areas that create marshes or bogs. Tamarack trees were once abundant in the area, and bordered the marshes and bogs. Early settlers, such as the Vadnais and Garceau families, used the tamarack trees to build their homes. 
Shallow Groundwater
More than 50% of Minnesota contains shallow groundwater, a condition where a high groundwater table (saturated soil) is near the land's surface, often accompanying a wetland. Unlike deep ground water, shallow groundwater moves according to gravity along the earth's surface. Soil exposed to shallow groundwater becomes anaerobic, or what's called hydric. While the state of the water table changes year to year depending on rainfall and surface runoff, hydric soils remain for many years after shallow groundwater has shifted. This is why may properties in VLAWMO experience difficulties with soggy yards and flooding. During a wet year with high rainfall, hydric soils quickly function as they once did – as a wetland. 
Diagram courtesy of USGS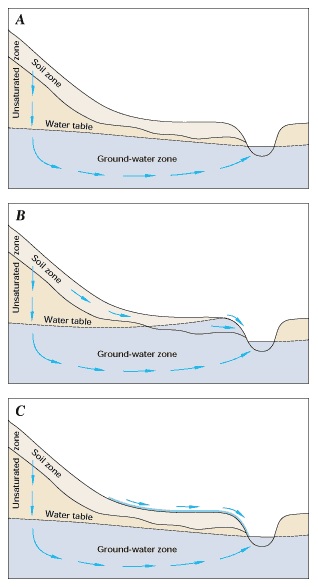 But don't fret! It's possible to be at peace with our groundwater, enjoy your yard, and still be of help to our shared water resources. With some planning, patience, and flexibility, VLAWMO is here to help create solutions.
Fill:

 While filling in soggy areas may be a solution, it is best done cautiously, as in many cases this has shown to be ineffective because of hydric soils below new fill. Additionally, the State's Wetland Conservation Act may prohibit filling wet areas. Before filling, a wetland delineation should occur to determine where fill can and can't be placed. Where allowed, filling may provide solutions in certain areas of the watershed.

Raingardens and native plantings:

 Because hydric soils retain their 'memory' of being saturated, they will [stubbornly] become saturated again when conditions are favorable, with or without extra fill. Why not bend in the wind instead of break in the storm? Raingardens and native plants are great options to beautify your yard and create pollinator habitat. They help uptake the water in difficult areas, and allow space for the soils to ebb and flow with a dynamic water table. In addition, deep roots of raingarden plants provide structure and filtering that are helpful for our water. See our wetlands page to learn more about these benefits.
Either of these solutions, or a combination of the two, may be what works best for you. Your yard is special, and should be treated as such. Working with your topography, drainage, and personal preferences, VLAWMO can provide technical advice and cost-share funding to help along the way.